How You Can Contact Us

VariThrow Watering Systems (a California company)
Consumer Information
VariThrow, The Intelligent Sprinkler, helps consumers save money, water, and time by keeping your grass green and your sidewalks, driveways, and cars dry. This is because a VariThrow sprinkler spray water according to the shape of your lawn. Effectively and efficiently, with little to no unwanted overspray. We are happy to receive your comments and help answer your questions about our products:
contact@varithrow.com
Installation Assistance
VarriThrow is a perfect sprinkler for the do-it-yourselfer. For installation assistance and questions:
installation@varithrow.com
Sales
If you are a retailer, commercial home builder, landscape architect, water utility, or Home Owner Association, you can request a trial unit at:
sales@varithrow.com
Commercial Inquiries
VariThrow's patent pending variable-throw components an be adapted to any rotating sprinkler and sprinkler head.
For licensing opportinities please e-mail us at:
businessdevelopment@varithrow.com
Investor Relations
VariThrow offers an effective, efficient commercial-grade alternative at a 1/10th the price of typical sprinkler systems. We are happy to do our part in helping keep our customers' grass lawns green by keeping the water on their grass lawns and off of their sidewalks, driveways, and cars.
investor-relations@varithrow.com
Purchase securely from
Amazon
or checkout with Paypal or Amazon Checkout!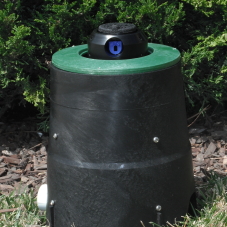 The Intelligent Sprinkler by VariThrow
with standard cover
Price: $249.95